British Columbia has seen oil and gas exploration activity dating back to 1891 when wells were often drilled near existing natural oil or gas seeps. Despite this early activity, significant oil and gas success and subsequent production was not achieved until the late 1950's. Today, virtually all oil and gas production arises within Northeastern B.C. (NEBC).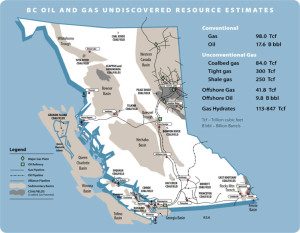 For the latter half of the 20th century, petroleum exploration efforts focused on highly porous and permeable sandstone, limestone and dolomite reservoirs. This type of resource is often referred to as "conventional" oil or gas. Conventional oil and gas reservoirs have the ability to produce from vertical wells using natural formation pressure.
Within the past 10 years, higher commodity prices in tandem with advanced horizontal drilling techniques have led to increased exploration and production of natural gas. Additionally, new markets (Southeast Asia) have surfaced, that are seeking a reliable source of supply with short delivery cycles (approximately 10 days by LNG tanker).
The Southeast – Exploration in the S.E. of B.C. has focused on conventional oil and gas and coal bed gas. Much of the drilling has encountered hydrocarbon including the discovery of an estimated 600 billion cubic feet (Bcf) of carbon dioxide-rich natural gas.
The Northeast – Petroleum exploration and development have been underway since 1952 in the N.E. region — a 194,000 square-kilometre area spanning the northern foothills of the Rocky Mountains and the northwest part of the Western Canada Sedimentary Basin. Almost 19,500 drilled wells to date. Estimates of marketable conventional natural gas resources that remain vary from 26 to 44 trillion cubic feet (Tcf).
British Columbia Terminals – Prince Rupert is the port with the shortest transport route to Asia at 9.8 days to Yokohama, Japan and 13.7 to Hong Kong. The proposed terminal at Kitimat (expected to open by 2015) is 10 and 14, respectively. The 5 main LNG facilities are projected to have a combined initial capacity of 5.6 billion cubic feet per day. At that rate, these facilities need two trillion cubic feet of natural gas production a year. Over 20 years, that translates to 40 trillion cubic feet of natural gas.
The BG Group (UK based) has proposed a $16 billion LNG terminal on Ridley Island in Prince Rupert and entered into an agreement with pipeline major Spectra Energy to construct a massive 48 inch pipeline from NEBC to Prince Rupert with an estimated start of construction in 2016. (Prince Rupert LNG)
Progress Energy Canada (a division of PETRONAS) has a $9-11 billion investment plan to set up an LNG Terminal on Lulu Island just outside Prince Rupert. Additionally, Trans Canada Pipeline is to design and build a pipeline from the growing Oil & Gas lease assets that Progress owns in the Montney. (Pacific Northwest LNG)
Apache and Chevron are partners in the export facility to be built near Kitimat and process over 644,000 undeveloped acres in Horn River and Laird Basins. In partnership with 15 First Nations, Pacific Trail Pipeline will construct the 463 km pipeline from NEBC to Kitimat with completion expected by 2015. (Kitimat LNG)
Shell Canada and partners (KOGAS, Mitsubishi Corporation and PetroChina Company Limited) are proposing to build and operate an export facility near Kitimat. TransCanada (Coastal GasLink) will build the 650 km pipeline from Montney near Dawson Creek at a cost of $12 billion with a start-up in 2019. (LNG Canada)
BC LNG Export Co-Operative LLG, LNG Partners Texas and Haisla Nation propose a small facility in the Douglas Channel near Kitimat at a cost of approximately $450 M with a start-up of 2014. It will connect to existing pipelines and road infrastructure. (Douglas Channel Energy Project)
Aviation Application -There are a select number of medium and heavy helicopter operators that are actively supporting the Oil & Gas Industry in Western Canada. Generally, the helicopter operators must meet the Oil and Gas Producers Guidelines (OGP), Oil Company requirements, Transport Canada Regulations and pass the required initial and yearly audits.
The largest category employed in the Oil & Gas Industry is light helicopters from the B206 series to the AS350 series and a growing demand for light twins such as the AS355, EC135/145 and B427/429. The missions range from gas meter monitoring (pilot/meter operator) to pipeline patrol, survey, plan crew change, external sling to environment support.
The requirements for medium helicopters are somewhat limited to crew change, HEMS and seismic support. The later air ambulance requirements will be a growing segment given the thousands of workers to be in the north at remote locations, especially during the height of construction.
Fixed Wing Air Ambulance – Across Canada a variety of air ambulance aircraft are employed for government and corporate needs. This will be a growth service in BC to serve the Oil & Gas customers. The aircraft types range from Super King Air 350 and Cessna Twin for the shorter distances (800-1200 miles) to Lear 35 and Citation Excel (3000 to 4000 miles).
Fixed Wing Work Force Logistics – Given the need for thousands of skilled trades, management and support staff to work in NEBC, fixed wing will increase dramatically in scheduled and charter services. Already new routes and additional capacity are being added to Prince Rupert, Terrace, Fort St. John and Fort Nelson to name a few.
For additional information
Contact Michael Nagel @ +1 604 616 2662
[email protected]