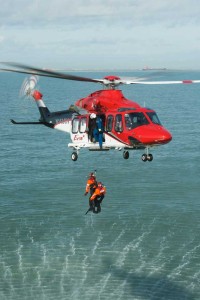 Global Oil and Gas exploration is increasing in new onshore and offshore locations with the goal to meet the insatiable appetites of worldwide energy markets. These new operations stretch the availability of the entire aviation supply chain including government operated Search and Rescue (SAR) as well as Aviation Emergency Medevac Services (EMS).
New exploration projects (such as offshore operations in Canada's Atlantic to Europe's North Sea to the deep water operations off the Gulf of Mexico) have revealed an urgent need to address workers safety. In the event of injury or illness to the unfortunate event of a lost aircraft or vessel, these far distances offshore can take hours or even days to reach.
Government SAR has long been unable to serve all possible locations with Military or Coast Guard Services in regimes such as the USA, UK, Canada or Australia. In these examples, it has been a challenge to provide patrol services by fixed wing to these long, extensive coastlines. Additionally, military assets including the Bell 412 or AS 365 to Sikorsky 61's may be incapable to serve offshore activities now at 200+ nautical miles.
Therefore, to address the safety case risk, the Oil & Gas industry has had to rely on commercial operators from both Fixed Wing and Helicopter services to augment these highly specialized aviation requirements. This has developed into a new level of aviation skill sets in SAR and air medical care in addition to dedicated SAR and EMS aircraft for commercial operators.
Over the last few years, global operators like CHC Helicopter have proven effective in this new role by taking over government operations for the Irish Coast Guard (IRCG) that includes upgrades to 5 SAR Sikorsky 92 helicopters. Last year, Bristow Helicopters won the United Kingdom Maritime and Coastguard Agency (MCA) contract to provide SAR with plans to provide approximately 22 aircraft that include AgustaWestland 189 and Sikorsky 92.
In the United States, Era Helicopters LLC, SAR bases are located in Fouchon, Louisiana and Galveston, Texas providing both Emergency Response and SAR in the Gulf of Mexico. Era has a unique model of subscriptions for service with a number of Oil & Gas Companies in the Gulf. Additionally, they also serve cruise lines and local state governments (FEMA). Services are provided 24/7 in the AgustaWestland 139 in full all weather SAR capability with rescue swimmer, hoist operator and paramedic all cross trained.
In Australia CHC Helicopter has a contract with Shell in Kimberly providing the first dedicated SAR service. The service is based in Broome Western Australia and provides a long range 24/7 SAR and Medevac service. Initially deployed at very short notice as a LIMSAR service it will be upgraded with new AW SAR Airbus EC225 in January 2015.
Cougar Helicopters Inc. based in St John's Newfoundland and Labrador has been providing SAR to the Oil & Gas industry since 1991. Today, they operate civilian Sikorsky 92 in partnership with various Oil & Gas companies in Production and Exploration offshore.
Globally commercial helicopter operators are offering the latest and best technology in all weather, 24/7 SAR and Medevac services. This growing trend of such capability is comforting for an Oil & Gas industry that is exploring more frequently in the harshest and most hostile locations around the world. Add to this challenge the new green fields that are often in excess of 200 nautical miles. This is a job for only the most committed operators that can meet and exceed government regulations, Oil & Gas Company standards and public need.