UAV aircraft are one the biggest phenomenon today expanding from military employment of drones for surveillance to the civilian sector and even personal use.   The scope of this growing trend is evidently changing not only our daily lives, different business fields, but also the landscape of the aviation itself.   The industries that will dominate the commercial drone market will be related to energy, utilities, agriculture, construction, mining, real estate, news media, and film production.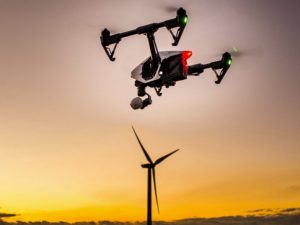 However, the timing cannot be any better for the application of UAV or Drones in the Oil & Gas Industry.    From the monitoring of pipeline right-of-way to inspecting a drill rig, the UAV would be undoubtedly an opportunity to reduce cost and operational risk.   While most have cameras with downlink applications, some can now detect leaks (flare stack inspection to gas emissions) with specialty sensors.
The UAV provides a much safer alternative, especially when workers need to climb Oil & Gas structures especially offshore.  Equally dangerous is often flying over an onshore tailing pond or production terminal at low altitude in a single engine helicopter.   Therefore, there is a notion that the UAV compliments many critical work packages that, for a long time, have been very risky.
How do UAVs impact civil aviation and what actions should be taken to ensure the airspace safety?   Most recently, a British Airways aircraft (Airbus A320) was approaching Heathrow airport with 132 pax / 5 crew on board when a drone hit it. This incident is believed to be the first evident collision between a UAV and a passenger aircraft in UK airports.
One opinion is that these threats are usually caused by amateurs with an ignorance of general aviation rules and regulations. Here in Vancouver, BC there are government signs posted at the Harbour Heliport, Seaplane Base and even major airports (YVR) but one still sees UAV's.   There is an idea that UAVs should be operated in accordance with air traffic control instructions, by trained and licensed operators, in addition to having compatible communications and navigation capabilities.
While we see, UAVs used extensively now in modern films and even to monitor crop production, just maybe this new technology will prevent a major onshore or offshore oil spill.   Another item in the toolbox for the resource sector that can only be a positive application if operated safely and respectively in both urban and rural environments.